Happy New Year, my fellow romantic!🥳 I am so excited to see you here in 2020!
Looking for the start of the 12 days special? Click here to go to Day 1!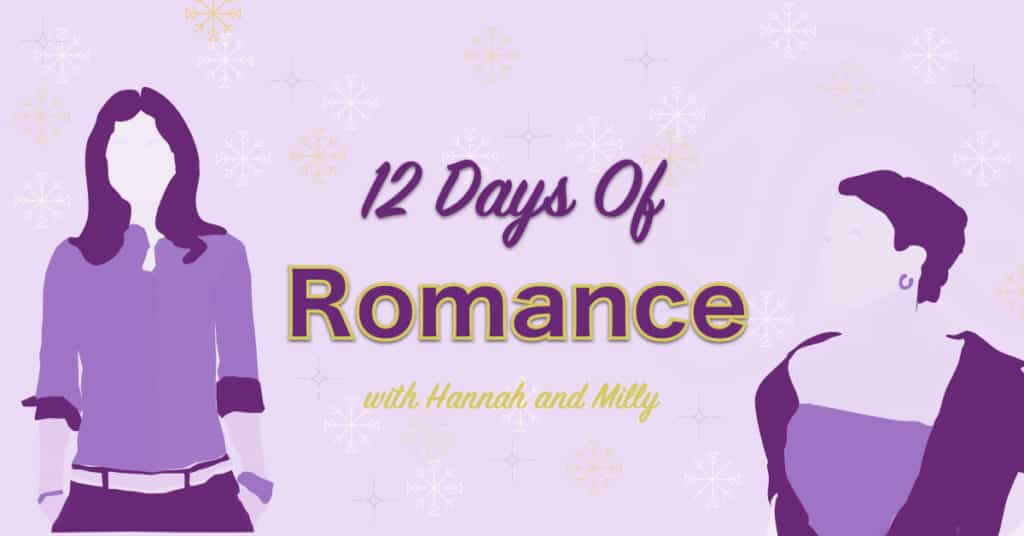 Day 12 (Although it's technically still day 11 for Hannah & Milly)
Milly turned the corner and stopped dead in her tracks. The light in the hallway that led to her dressing room had been switched off.Tiny lights, flickering to look like candles, were set along the walls. Between them, a trail of rose petals led to her door. "Hannah!" was the first thing that popped into Milly's mind.
She lifted the bottom of her gown and slowly put one high-heeled foot in front of the other. Her heart skipped a few beats.
The muffled tones of several string instruments sounded from behind the door. Milly immediately recognized the melody. She shook her head and smiled.
This was not just an incredibly romantic New Years's Eve surprise. Hannah had to have a more important reason to do this. Milly could only think of one thing.
She put her hand on the cold door handle. Was she ready for what she thought was about to happen? Her heart swelled with joy and gratitude. Yes, she very much was.
Milly pushed down the handle and stepped inside. Her dressing room was filled with more of the lights. The sound of her favorite music washed over her. Goosebumps rose on her arms.
Hannah stood in the middle of the room. Her eyes were sparkling with joy. Her smile was confident. She was holding a small, velvet box. Milly's hand shot to her mouth.
"Milly," Hannah said, dropping to one knee. Her voice was thick with emotion.
Milly stepped toward her without thinking. She wanted to be as close to Hannah as possible in this moment. She pulled up her gown and sat down on her knees in front of Hannah.
Hannah chuckled, clearly surprised by Milly's response. "Milly," she then repeated.
Milly stared into Hannah's eyes, feeling tears brimming in her own, as she waited for her to continue.
"Will you marry me?" Hannah finally croaked.
"Of course," Milly replied immediately.
She cupped Hannah's cheek, shuffling closer on her knees. Hannah's arms slipped around her. Milly lost herself in the long, tender kiss that followed, her fingers tightening in Hannah's hair.
Quite abruptly, Hannah pulled back. "Wait," she said breathlessly. "I have a ring!"
Milly wiped her cheeks. She didn't know if they were wet from her own tears or Hannah's.
Hannah lifted the small box so Milly could see what was inside.
Milly blinked. "Oh my God," she whispered.
The ring was stunning. It was nothing like any other engagement ring she had ever seen. "It's breathtaking. Where did you find this?" she gasped.
Hannah carefully pulled the ring out of its protective pillow and put down the box on the floor.
"I had it made for you. I wanted it to be unique, like you," she said.
Hannah reached for Milly's hand. Milly was trembling. She pressed her lips together as Hannah slid the ring over her finger. It fit perfectly.
Hannah smiled shyly. "Do you like it?"
Milly nearly sobbed. "I love it," she said, staring at her own hand in shock.
"Thank God," Hannah laughed.
Milly threw herself into Hannah's arms. "Thank you," she whispered over and over again, squeezing her eyes shut to stop herself from crying again.
Hannah placed tender kisses in Milly's neck. "I'm so happy," she said softly.
"Me too," Milly sighed.
A weird noise coming from somewhere in the back of the room made her open her eyes. She frowned as she spotted someone's foot sticking out from under the coat rack with her costumes.
"Oh, my God!" Milly laughed, straightening. "Why is there someone hidden behind the coat rack?!"
Hannah grinned, looking over her shoulder. "Guys, I think you can come out now!"
The music stopped and three heads popped up above the clothes. "Congratulations," Trevon, one of the orchestra's most gifted violin players, beamed.
Milly was too flabbergasted to reply. She just sat there staring at her co-workers with her lips parted. Why hadn't she wondered where the music was coming from?
Hannah pushed herself off of the floor and held out her hand. Milly gladly accepted it and got up as quickly and as elegantly as she could in the tight gown.
"Thank you so much, guys," Hannah told the musicians. "I can never repay you for this."
"Our pleasure," Ann, the viola player, grinned. "It was a great way to end the year!"
Milly laced her fingers with Hannah's. "Thank you so much," she whispered to the musicians. She was still too overcome by emotions to say more.
Peter put down his cello and smiled brightly. He had a head full of lush, silver curls. "Okay, we better get to the countdown party."
Hannah squeezed Milly's hand. "I think we need a moment alone before we join you."
Milly nodded.
The three string players headed for the door, carrying their instruments in that certain way only lifelong musicians could manage.
"We've got about fifteen minutes before the New Year starts!" Trevon said excitedly as he pulled open the door. "I'm gonna go kiss my girlfriend!"
Reality suddenly hit Milly. "Oh my God!" she gasped loudly, "And I get to kiss my fiancee!"
Hannah beamed back at her. The three musicians laughed as they stepped outside.
Peter stuck his head back inside, though. "Better get used to that thought. I'm gonna go tell everyone at the party Mildred North and Hannah Emsworth got engaged!"
He wiggled his eyebrows and shut the door.
Hannah and Milly looked at each other, wide-eyed.
"Oh my God," they both said at the same time.
Support = 💜
This story is free because I wanted you to enjoy it without hesitation and with lots of holiday cheer. If you want to give me some help for the time and effort, and help me off to a great start in 2020, THANK YOU! You can support me by clicking here.
</div