Heya,
Happy Valentine's Day! (I checked! It's already February 14th in Australia 😉 )
Perfect day to release something new. I have an extra scene with Hannah and Milly for you. It's also an unofficial prologue of 'The taste of a smile'!
Hope you enjoy and have a splendid day, my fellow romantics.
🌹
Sigrid
Hannah looked down at the red rose. She had removed the cellophane wrapper. She thought it looked more classy this way.
She nodded, satisfied, and knocked on Milly's dressing room door.
"Come in," Milly commanded, making Hannah grin. She loved how serious Milly always was at work.
She poked her head around the corner. "Hey!"
Milly stood by the vanity, still wearing parts of her costume. She dropped a cuff in a box, smiling back at Hannah.
"Hey, you," she said, prying loose her other cuff.
Hannah held up the rose. "Happy Valentine's Day!"
Milly's eyes twinkled. She tucked her hands in the pockets of her pants. Red suspenders dangled from her belt. "Thank you!"
Hannah let her eyes roam over Milly's body. "I love it when you have a trouser role," she said in an appreciative tone.
Milly's lips quirked up into a playful smile. "Yes, I think you mentioned that before. Are you coming inside or…?"
Hannah's eyebrows shot up. "Oh, right," she said, blushing. She closed the door behind her.
"Will you accept my red rose as a…" she started to say with a slight bow. But then her eyes fell on a vase in the corner of the room.
"What's that?!" she blurted, staring at a large bouquet of red roses.
Milly chuckled, shaking her hair free after removing the elastic band. "Flowers."
Hannah tried to count the roses. There were too many.
"Are you going to give me my rose or not?" Milly asked in a teasing tone.
"You told me not to splurge," Hannah pouted.
Milly held out her hand. "Uhuh."
Hannah pointed at the vase in the corner.
Milly looked back at her from under heavily made-up eyelashes. "Those are from another admirer. Guess she didn't get the memo."
Hannah gasped in mock shock. "Oh really?" She stepped in front of Milly. "Who might that be?" she said in a suspicious tone.
Milly tugged at Hannah's belt loop. "I haven't checked the card yet."
Hannah sputtered in protest. "Well, then I have to…."
Milly laughed, wrapping both of her arms around Hannah's waist. "No, you don't."
"But," Hannah muttered. "Someone else is sending my girlfriend flowers!"
"Get used to it," Milly giggled, placing a soft kiss on Hannah's lips. "I am in the flowers receiving business."
Hannah offered her own rose to Milly. "Mine comes with lots of kisses."
"Ah, see, I knew this one was special." Milly accepted the flower and sniffed it happily.
Hannah stared into her girlfriend's beautiful, brown eyes. "You were amazing on stage tonight," she gushed.
"Thank you," Milly replied shyly. She leaned back, carefully placing the rose on the vanity. "Now where are those kisses, hmmm?"
Hannah ran her hand down Milly's back. They kissed tenderly. It wasn't a possessive or demanding kiss, but a loving and giving one.
After a while, they both pulled back and smiled at each other, the tips of their noses touching.
"I missed you last night," Hannah said softly, brushing her thumb over Milly's cheek.
"I missed you too. Charles missed you more."
Hannah rolled her eyes. Her tomcat still hadn't adjusted to Milly living at the apartment. When Hannah was out of town, Milly took care of him, but Charles never showed any appreciation.
"I'll have a word with him when we get home," she said seriously.
Milly arched a skeptical eyebrow. "I doubt that'll help."
Hannah shrugged. "Or I can ask my mother to stay over more often. He hates her even more."
Milly slapped her shoulder playfully. "Very funny. Now get out of my way so I can take off this make-up."
Hannah happily obliged. She took a seat in the comfy couch. She loved watching Milly's post-performance routines.
"Time for lunch tomorrow?" Milly asked, staring into the mirror and reaching for the make-up remover.
"Let me check," Hannah replied, crossing her legs. She switched her phone back on.
"I'm at Christine's in the morning, but I have some time afterward," Milly continued, sitting in front of the mirror, wiping her face clean patiently.
Hannah scrolled through her calendar. "Crap, I already have a meeting. I'll try to move it to the afternoon."
Milly glanced over her shoulder. "Nooo, don't. It'll only mess up your schedule. Who are you having lunch with?"
"My cousin Lex," Hannah said, opening the appointment to see where Suzy had made a reservation. "At a sushi place, apparently."
"Oh, about that job you offered her?" Milly asked, opening the buttons of her shirt.
Hannah tapped the email icon on her phone. She scanned the list of new messages before replying. "Yeah," she mumbled. "She hasn't emailed me to cancel, so I guess she's actually considering taking the job."
"That's great. She's well qualified and it'll be a change for her," Milly said. "Are you going to have her run the NYC store?"
Hannah nodded. "If the store manager Mary accepts the promotion I plan to give her."
"I see you have it all figured out," Milly replied warmly. She got up and took the shirt off, carefully placing it on the hanger.
"I still can't believe they tape in your breasts," Hannah said, staring.
"It's not tape," Milly corrected her, walking over. Her chest was covered by the binder, but her stomach was bare. She turned around. "Help me for a sec, will you?"
Hannah shot up, throwing her phone onto the couch. Milly raised her arms and Hannah pulled the binder over her head.
"Better," Milly sighed.
Hannah wrapped her arms around Milly and took a peek over her shoulder. "Much better," she said in a husky voice.
Milly leaned back, covering Hannah's hands with her own. "I thought you liked me in my trouser character."
"I like this even more," Hannah whispered, playfully sucking Milly's earlobe between her teeth.
Milly giggled. "Stop it," she said without making an effort to escape from Hannah's teasing manoeuvres.
A knock on the door stopped Hannah in her tracks, just when she was about to cup Milly's breasts. She silently cursed.
"Just a second," Milly called out, hurrying to the chair with her bathrobe.
"More flowers, Miss North," a man yelled from outside the door. "I'll leave them here."
"Oh God," Hannah growled, plopping back into the couch.
Milly laughed.
Help me create 'The taste of a smile'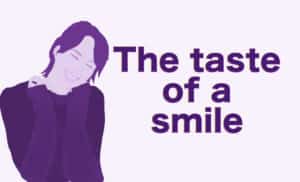 If this extra scene brought a smile to your lips, please consider supporting the production of my new story 'The taste of a smile.'
I have already started writing this new, upbeat love story. Will you support my work and send me some 'Leroy Chocolates' to keep me going?
The Leroy Chocolates Valentine Specials. Send me …
! (Contributions made above do not result in the purchase of actual chocolate. It's a fun way to ask for your voluntary monetary gifts.)


This is a secure SSL encrypted payment.
The Lesbian Romantic is a part of Cheesecake Media, my legal (for-profit) business entity. Contributions are not tax deductible.