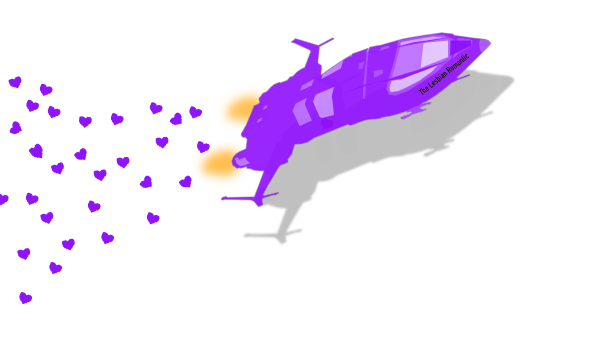 Today, it's been one year since I released my very first, very weird podcast episode of The Lesbian Romantic. I know many of my listeners skipped The Space Story, and sometimes I wish I had too.
But! Did you know I started working on that first episode with a HUGE hangover? Yeah, that explains a lot, I know.
One year ago, I attended a reunion with friends and teachers from the school of journalism I got my degree from.

I had worked on a radio show with many of them for 2 years before I graduated 10 years earlier.

Now, I was having beer with them in our old studio. It took us about 10 minutes before we were playing a bit, pretending to be live, goofing around.

And something inside me shifted. Do you know that feeling deep inside when you're doing great by all of society's standards, but something's missing?

Well, I had been feeling that for a long time, and I found out what I was missing exactly one year ago today.

I needed to get my ass back into radio or audio or anything that gave me the feeling I had when I stepped back into that old studio 😉

So I partied all night long (duh) with all of my old friends. The next morning, I dragged myself to the train station for the long ride back to Belgium.

I arrived home in the evening feeling sad and somewhat unravelled. That's when I opened up Garageband on my computer, and aimlessly started playing with sounds.

I came across some weird space ship background noice and a weird story suddenly popped up in my mind.

I hooked up my old USB microphone and started recording (with headache!) the very first, very weird episode of The Lesbian Romantic.
That's how I got started! I never had a plan. Just started playing. The podcast now has become one of the most important things in my life. My earlier career now has the ominous title 'the money job'…
I think year 2 of the podcast will be an even bigger adventure 🙂
💜 Dear fellow romantic,
I'm on a mission to make people smile. That's why I share my stories freely: so everyone has access to them.
As a crowdfunded and queer creator, I humbly ask for your support to help me keep going in 2021. Every dollar makes a huge difference.